Melaleuca is used for colds, cough, asthma, chest pain, poor digestion, to increase blood circulation after delivery, rheumatism and painful nerves.
General introduction
Melaleuca leucadendra, commonly known as weeping paperbark, long-leaved paperbark or white paperbark is a plant in the myrtlefamilyy, Myrtaceae.
Melaleuca leucadendra is a large tree 10-20 m high or a low shrub about 0,5 m. Its thick bark is papery, usually white but also pinkish or cream and it has weeping branches. Its leaves and young branches are covered with fine, short, white hairs when young but become glabrous as they mature. The leaves are arranged alternately, 4-8 cm long, 1-2 cm wide, flat, narrow egg-shaped or lance-shaped and tapering to a point. The flowers are cream, white or greenish-white and are arranged in spikes on the ends of branches which continue to grow after flowering, sometimes on the sides of branches or in the upper leaf axils.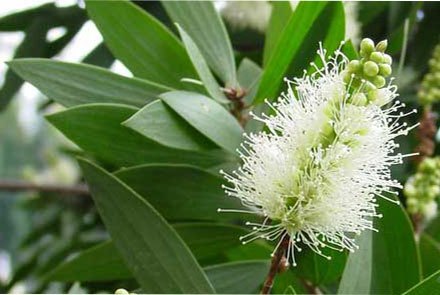 Melaleuca plant growing wild in Vietnam from the south to the north, most in the south, Melaleuca forests grow after extensive forests.
Vietnam is one of the largest natural cajuput forests in Asia. Each year can produce from 80 to 100 tons of essential oils, mainly for export. Melaleuca forests in Dong Thap Muoi also have big biological and environmental meaning.
Chemical composition
The main ingredient of Melaleuca leaves is essential oil with a rate of 2.5% (calculated on fresh leaves) or 2.25% (calculated on dried leaves). Melaleuca oil is a liquid, colorless or slightly yellowish (some are green because of dyeing, not natural color), pungency and cool, hot, special aroma. If refined, it clear, almost colorless, boil at 175ºC, dissolve in 2.5 to 3 volumes of alcohol 70ºC.
Composition of essential oil is cajeputol or xineola or eucalyptola in the rate of 35-60%. It also contains pinen, tecpineola, a few aldehydes (valeric, butyric, bezylic), and ethers such as acetic ether.
Refined oil will not contain andehyd. To refine melaleuca we can soak oil with a mixture of lead oxide and sodium hydroxide solution for 3 hours at a boiling temperature, or use potassium and sulfuric acid, and then re-stain. Refined melaleuca oil is not color or only very light yellow, pleasant aroma.
Uses
According to Western Medicine, Melaleuca oil has antibacterial effects: Staphylococcus aureus, Escherichia coli, Pseudomonas aeruginosa, Helicobacter pylori. It also has anti-fungal and anti-inflammatory, relieve pain, cough, cold and anti-inflammatory.
According to the research, Melaleuca oil has antimicrobial effect, anti-fungal and anti-inflammatory, analgesic. In the folk, Melaleuca oil is used to massage the skin to heal joint pain, limb aches. Melaleuca essential oil in castor oil with 5-10% rate use nasal decontamination, anti-influenza, stuffy nose. In traditional Indian medicine, diluted melaleuca oil is used to dilute the sputum in chronic laryngitis and bronchitis.